From CAA friend Packard Jennings: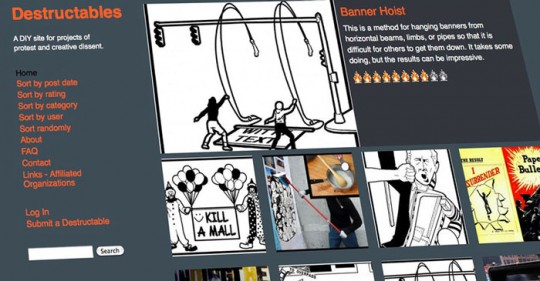 Destructables.org: A user generated, Do-It-Yourself website for projects of protest and creative dissent.
Details:
Saturday October 15th from 4pm-7pm (demos start about 5pm)
In the Studio for Urban Projects.
3579 17th street (at Dolores) San Francisco
The launch will feature several demos, including 'how to make and use wheat paste to put up posters', a demo from the Center for Tactical Magic, and more!
Destructables is a sort of online anarchist cookbook without the weapons and with a lot more art and humor. The site features user-generated, step-by-step instructions for performing a wide range of public actions, such as: shop-dropping (putting fake products in stores), protest strategies, wheat-pasting, making protest props, interventions, methods of civil disobedience, and many other forms of dissent. The projects range from the practical and tactical to the creative and illegal. We wanted to put these tools and resources into one convenient place. To make a living archive and resource for the art and activist communities where people can share what they've learned. The site already includes contributions from high profile groups the Yes Men, Crimethinc, and the Center for Tactical Magic.
Destructables.org was made possible through the generous support of Southern Exposure, Di Rosa and through tactical support from Crimethinc, and the Center for Creative Activism. Thanks to the Studio for Urban Projects.
Hope you can stop by!